I love custom work. I come up with a lot of ideas on my own, but there's lots that is special about doing custom work.
Taking someone's vision and interpreting it in metal, creating an emotion piece to treasure, is a special honor.
The creativity is fun. A thought or tentative suggestion…."do you think it would be possible to…." that is really the desire to commemorate a special occasion, communicate a special thought or set an amorphous, fleeting feeling into something solid and real.
It's also scary as heck. It's a huge responsibility. But a wonderful thing when all is said and done.
So, to commemorate a graduation and special time in someone's life, what would you do? And if that person loves Superman, and is at a place in life where the symbolism rocks with meaning, there's only one possibility.
A Superman bracelet.
So, that's where we began.
First step is a drawing. Or two or three. Or dozens, why not! This is one of the drawings…the others showed the emblem on different styles of bracelet. We decided on a cuff bracelet. Once size, style, etc had been sorted out, I created my templates.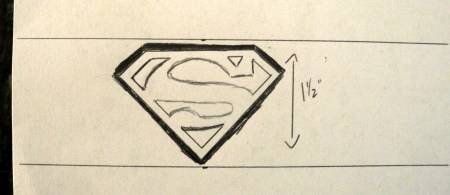 The next step was to decide on materials.   We wanted contrast, of course, so that the emblem would pop. Contrast can be achieved with layers of the same metal. Contrast can also be achieved with layers of different metals. So we decided on sterling silver, copper and brass.
The cuff was to be sterling. Cutting that out was pretty simple. And of course, files, the first of many, many files. Files smooth and buff the edges and in some cases shape areas depending on the piece.
The background for the emblem was to be copper. Also a fairly simple cutting process, of course with more filing. Anytime you cut metal, you pretty much get to file it. This is where audiobooks are a requirement.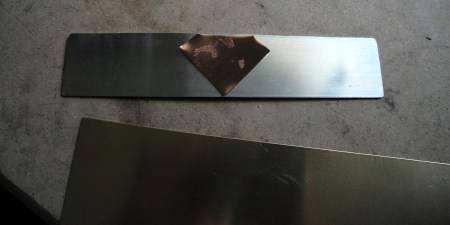 And then, the Superman emblem itself was to be brass. This had to be infinitesimally smaller than the copper, with just a minimal border around the outside. Hah! That was lots of fun. But the best was yet to come. So again, fairly easy cuts, more filing, lots and lots of compulsive measuring.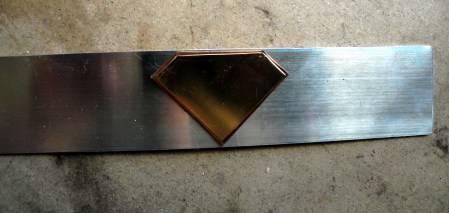 So the part of the S emblem that made this special was next. I knew this would be interesting to cut, but I tend to love a challenge. And this was one that amazingly, I nailed on the first try. Because I want the S emblem as a solid piece with cut outs, I have to drill tiny holes in each cut out. Then I insert my ridiculously small saw blade in those holes and saw.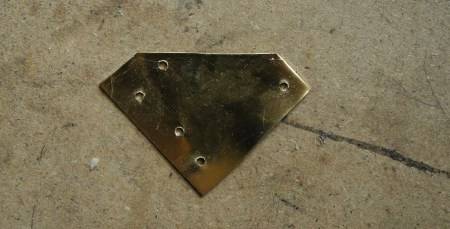 And then guess what? Yes! More filing. With much smaller, differently shaped files.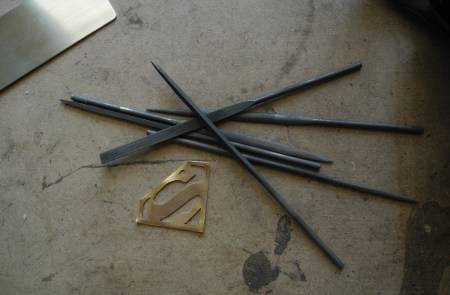 So, my final pieces fit together like this: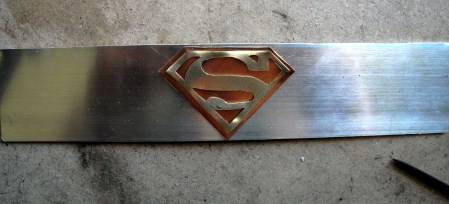 Not bad. Measurements were good, size is good, it pops as it should. And the best was yet to come. Soldering.
Soldering is not terribly difficult but there is some level of risk associated with it. It's possible to burn up your piece if you misjudge or don't pay adequate attention.   Also possible to have it all together and have it pop apart. And then sometimes it just works, flawlessly. And that's what it did this time.
So my pieces for soldering shaped up like this… The trickiest part is going to be getting it in the middle of the bracelet. No, wait, the trickiest part will be getting the S emblem perfectly centered on the copper backdrop. No, wait, the trickiest part will be getting the S emblem soldered onto the copper background adequately in all spots without leaking solder around it or burning up the narrower parts of the S.
Well, actually, it was all pretty tricky. The trickiest part was probably deciding which order to solder in. And then just doing it.

So I decided to solder the brass to the copper first, figuring that I would then solder the copper onto the sterling from underneath. Because I was a little concerned about keeping the pieces perfectly aligned, I warmed the solder onto the metal first to try and avoid any slippage. Hot solder tends to make metal lose all inhibition and slide hither and yon.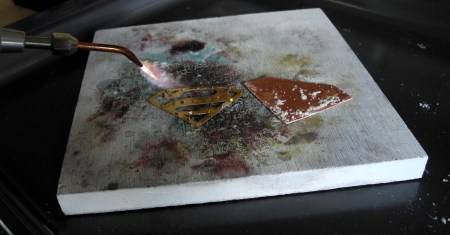 Then I put the brass on the copper, and held my breath. And lots of solder picks and tweezers to hold it in place. Well, you know, only one but it felt like lots.   And, it worked! And once it was squelched and then bathed, everyone held together beautifully. Here's S sitting in the cleansing bath to remove some residue. Looks a little stunned, huh?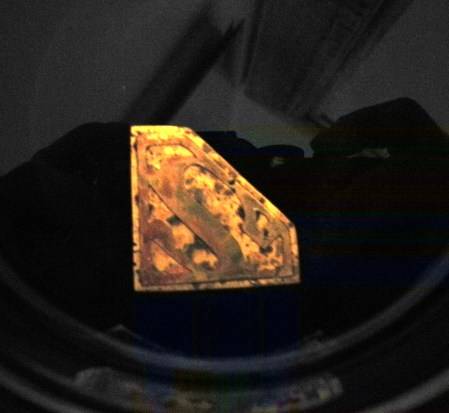 So, the next step. This one had me scared, I'll admit it. If I didn't get my flame just right, the potential for the brass S to leap off the copper in a single bound was very, very good.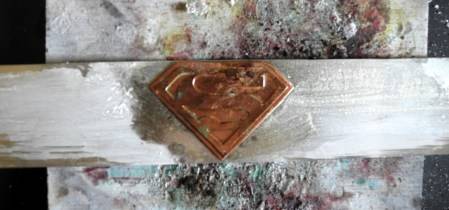 And guess what. It worked like a charm. See, all shiny and stuff…..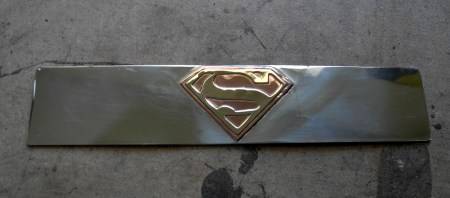 At this point, Superman and I went to visit our local trophy shop for some engraving. With great fear in my heart, I left him there for a few days while they applied pressure to the back of the bracelet opposite the soldered emblem. And made it vibrate.   Aack. But all was well and he came home in one piece.
And then one final step. Forming this into a bracelet. This means bending the metal around a metal cylinder to create a bracelet shape. Really, not that difficult. But of course, I pictured the S emblem leaping off the bracelet, which would then crack in pieces. Because that's just who I am. And then I pictured the engraving rubbing right off onto the bracelet form. So I wrapped my bracelet form in towels, wrapped Superman in towels, and began bending. Which involves tapping gently with a hammer, by the way, so the whole heart in the mouth thing was justified. But, this also worked. Like a charm. And polishing went pretty well too.
This particular Superman was an amazing amount of fun to create, and came together so beautifully that clearly it was simply meant to be.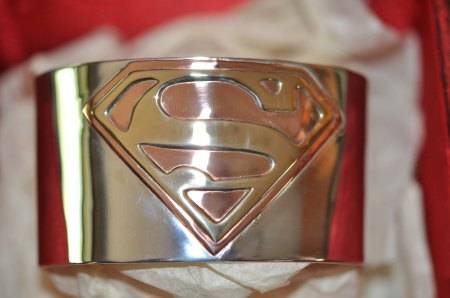 For more information on creating your custom jewelry to treasure, look here.  To begin your process, send me this information and I will get back to you promptly! To view the SilverDog Jewelry custom work portfolio, click here. I look forward to hearing from you!